Description:

This book is for mature audiences 18+ It contains explicit language and sexual content.

Sometimes being happily married and completely content is not at all what it seems.

That is what 35 year old, happily married, mother of two, Alexis Summers finds out when she decides it is time to return to work.

After being a stay-at-home mum for the past nine years, Alexis now realises a complete career change is just what she needs.

She becomes a Concierge Attendant in a prestigious hotel in Melbourne working for the owner of the hotel, Bryce Clark. He resides in the penthouse, is extremely hot, and is a man who always gets what he wants. And what he wants is Alexis.

She does a relatively good job resisting Bryce at first, but the undeniable chemistry, sexual tension, and playfulness between the two of them is intense. He has copious amounts of money, sex appeal and above all else, is a genuinely nice guy. Bryce has been waiting for his one true love to come along, and he is positive that one true love is Alexis.

There is one problem; she is happily married to Rick, and no matter how strong her feelings are for Bryce, she is adamant she will not cheat. She draws a line in the sand, but finds it increasingly hard not to cross. Will she succumb to Temptation?
Buy Links:
Review:
Let me just say, Temptation had me hooked in the first 20% and there was no sex (yet)! Shocking, I know . . . I was already recommending it to people before I made it 40% of the way through! I couldn't put this down and was so sucked in that I had to continue the series and now have to wait for what comes next!
I have to say, I am shocked . . . shocked I tell you . . . that it Temptation has been out for almost a year and I hadn't heard a peep about it! I think I have been living under a rock or something. I thought I was going to have to wait for the next book, but low and behold, there are three more already released!
If you are interested, you can find my review of the next three books in the series
HERE
...
Now, if you are interested in Temptation . . . and you should be . . . Run don't walk to pick it up. Alexis is an amazing character. Her morals and ethics get called into question, but she is determined to stay strong. She holds herself to a set of standards that she expects others to adhere to as well. When she meets what may be her greatest Temptation, her strong will may be the only thing that carries her through each day.
K.M. Golland creates characters that are everyday people (well some of them anyway). I was so invested in Alexis and her struggles that there were times I hated Bryce, Rick and everyone else and just wanted them to all leave Alexis alone and let her do her thing. There were other times, i wanted to smack Alexis upside the head and give her a good talking-to. The emotional roller coaster really gets me invested in characters and plots and I loved it.
Enter to Win!


About the Author:
K.M. Golland was born and raised in Melbourne, Australia. After studying Legal Practice for two years and working as a Land Conveyancer for four years, she put her career on hold to raise two beautiful children. Always having a love for reading, she decided rather than returning to the Legal Industry, she would become a Writer—publishing her debut novel Temptation (Book 1 in The Temptation Series.)

I am an author. I am married. I am a mother of two adorable little people. I'm a Bookworm, Craftworm, Movieworm, and Sportsworm. I'm also a self-confessed Shop-aholic, Tea-aholic, Car-aholic, and Choc-aholic.
Website
●
Twitter
●
Facebook
●
Goodreads
Buy Links:
Tour Coordinator: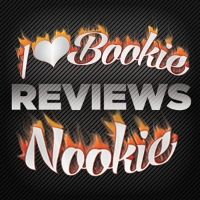 Please check out the other stops on this tour today:
Check out the entire schedule of the 18 Holiday Party Blog Tour stops & participating bloggers HERE.